This Tackle actually started a while ago. In fact, I blogged about it
two weeks ago
. I'm a chronic organizer, but a hopeless noodle when it comes to actually implementing the greatest of plans. I get a wonderful master schedule planned out, and get tired of looking at the starkness of it all. I've gone through probably a dozen Day Planners, and while some of them seem to 'stick' better than others, I just get tired of seeing the boredom all on paper. So I made it my own. Inspired by prayzgod's blog
Keeping the Home
and her amazing
Home Management Binder
, I set out to create one for myself, one that I'd not only be proud to call my own, but one that would reflect my own personal tastes instead of the sterile, bland blahness (is that a word?) of other planners I've had.
First things first, I chose a binder I could live with. I didn't go with an incredibly large one, and I wanted one that would be decent to look at as well as sturdy...but I didn't want all those pointy edges that had poked me and gotten me annoyed in the past. So I found a plain, black, snap-front faux-leather three-ring binder hanging around the house, and I claimed it! Pete had used it as his leader's book while he was stationed at Fort Stewart and it still had a fair amount of (eww!) Iraqi sand in it, so it took a good scrubbing to get it nice and shiny, but it works great! The inside cover is perfect for postage stamps, half-size index cards for writing quick phone notes on, my mini-collection of post-it flags, and a magazine for devotional reading. Wanna see? Right now I've got
Gospel Advocate's
August issue in there, and I'm saving it for the plane trip we'll be taking this weekend. Here's the inside cover: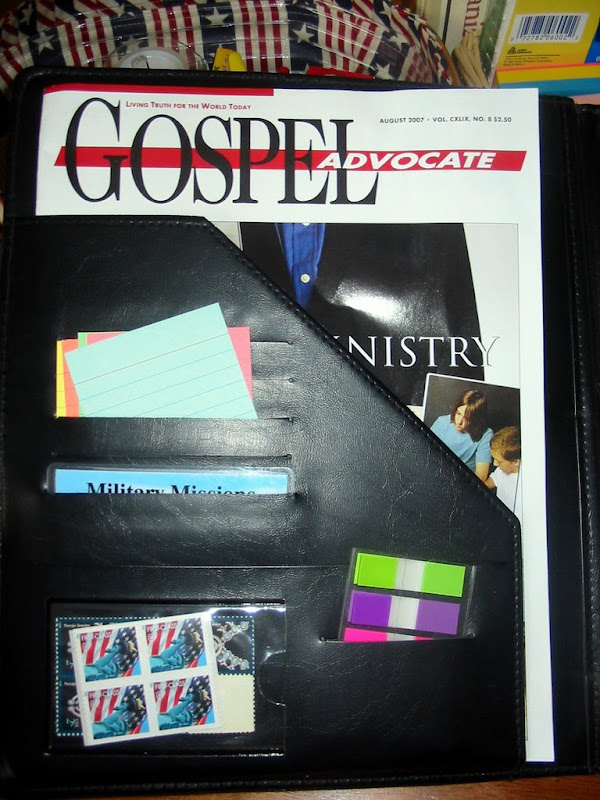 Adjacent to that is my title page. I decided that I really needed to go all-out on my dividers, to make them "mine". I settled on doing scrapbook-style pages that made me smile when I looked at them and reminded me of WHY I am striving toward organization. Life meets art: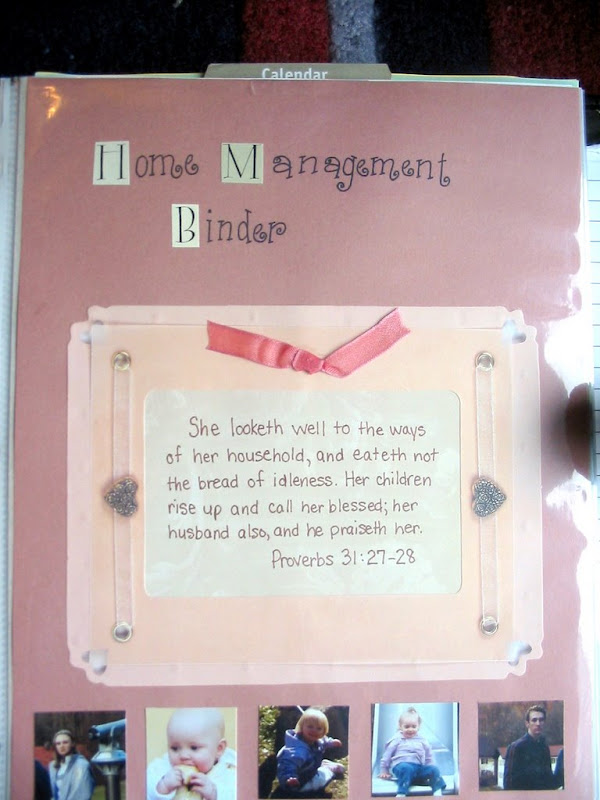 Behind my title page, I have several printouts that I enjoy reading on a daily basis. These serve to keep me grounded. One was copied from Keeping the Home, her "Woman's Rules to Live By", and the other is a handout from church with 20 suggestions for raising your kids for Christ. I also have a copy of the thirteen virtues Benjamin Franklin developed for himself at age 20. Excellent list--it's blogworthy in and of itself, so you may read of that here at a later date!

Next is my calendar/schedule section--here's the cover page. The picture I used to make this layout/cover sheet reminds me so well why it is important to keep our days ordered--so we don't end up run down and worn out. It's also important to schedule time to just rest in the arms of our Heavenly Father...as Dani is resting in the arms of her earthly Daddy. The verses at the bottom edges of the picture are Ecclesiastes 3:1 ("To everything there is a season. A time for every purpose under heaven.") and 1 Corinthians 14:40 ("Let all things be done decently and in order.")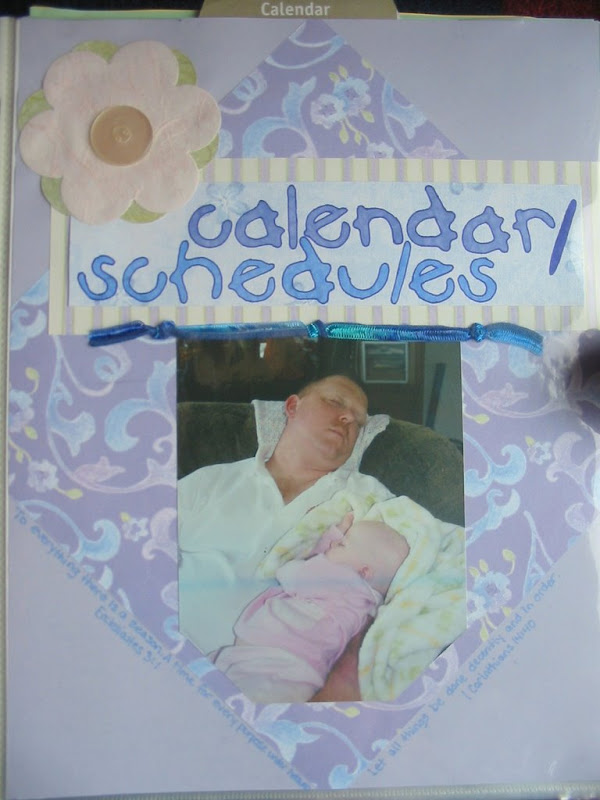 In my calendar section, the first couple of pages are the planning calendars. I got both of these from
donnayoung.org
; she's got a wealth of printouts there for the organizationally-challenged among us, and even for those who are addicted to this stuff! On one side is an 18-month calendar so I can see everything at a glance; the facing page is our school calendar, with August 2007 through July 2008 allon one page! I use the blocks to plan our intentional off-days and to record actual school days. I put the kids' first initials on each day that they have school, so I keep all that attendance stuff limited to one page. Works wonders for this ADD-challenged brain!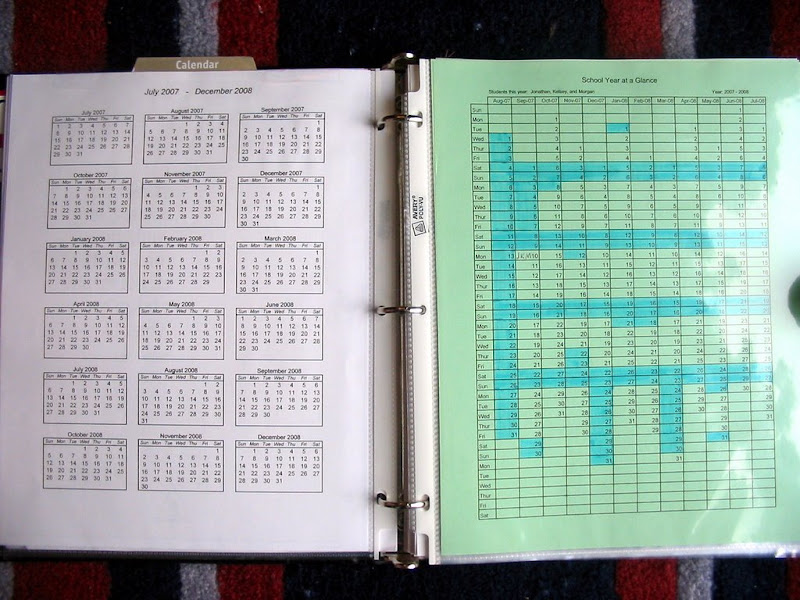 Behind this is twelve months of month-on-a-page calendars--the standard stuff--all (like all of my other pages) encased in protective sleeves to make this a jelly-proof (but not quite Jamie-proof) planner!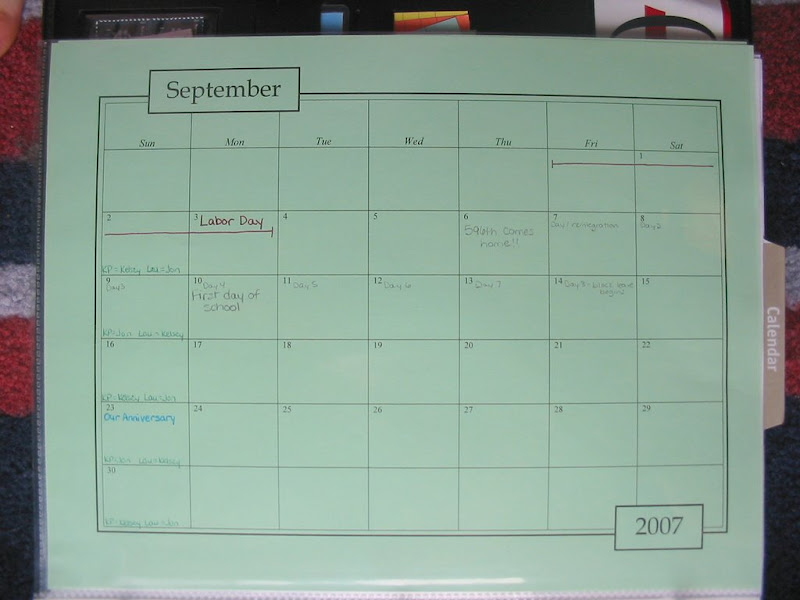 In that same section, I've got my basic weekly cleaning schedule. There's another copy of this on the refrigerator door--Pete is UBER proud that I've done this, and he's thrilled that he's now able to look and see what needs to be done on any given day and determine whether we've had a successful day schedule-wise. I'm loving all the color! OOH, look, variety!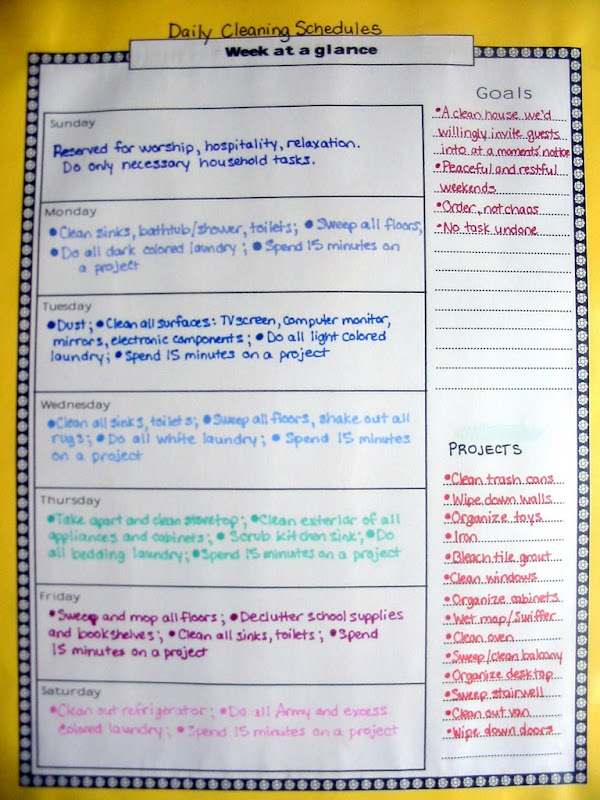 I still don't have my master daily plan finalized yet; I'm tweeking it as we go along with this first week of school to be sure I have enough time allotted for each activity or too much on another. Sorry, I'm not up for showing works in progress! LOL
The next section is for meals. I foudn it a bit odd that while I was browsing through my stash of pictures to make a scrapbook-style cover page for this section, I wasn't able to find any pictures of Morgan stuffing her face like her brother and sisters, but oh well...Jamie more than made up for the deficit!
In this section, I've got a master shopping list and weekly menu planner (both from
donnayoung.org
) and a few recipes I've printed off from hither and yon. I'm eventually going to add some more stuff to this section, but it's another work in progress.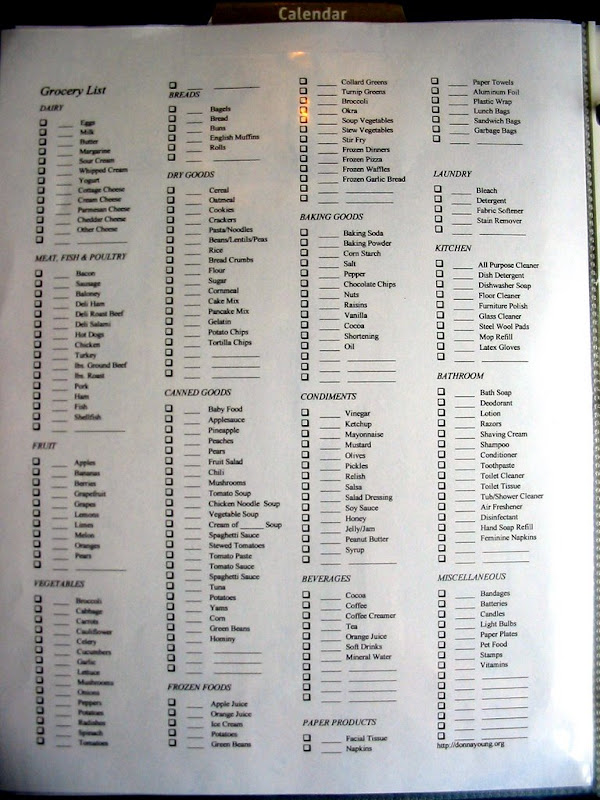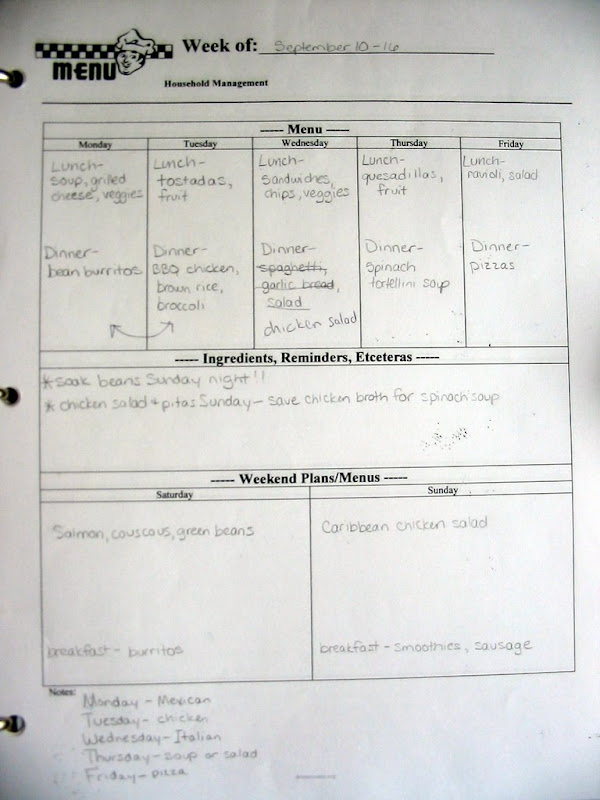 After the meal section comes the title page I really love. It doesn't have much behind it, just a few generic address/phone number sheets and a business card holder, but the cover sheet....I'm loving it. I almost didn't want to use it for a planner--it is just really scrapbook-y!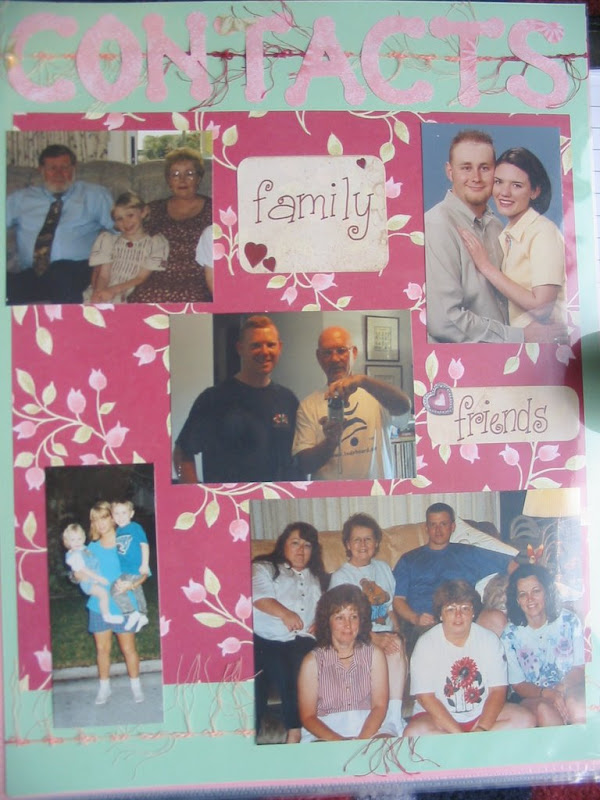 Then comes the final section--the one for my homeschool planning forms. Inside this, I've transplanted the schedule and dividers for nine weeks from my Sonlight Instructor Guide. I really didn't need to add much more, except I did...I added a sheet for the non-Sonlight subjects. I managed to keep lesson plans for both kids on one sheet. Very much better than the binder full of sheets I got tired of looking at in years past. The cover sheet was FUN to do too. I've been looking for something to use that silly picture of Pete in jammies and pink Converse Chuck Taylor All-Stars for eons, and now I've got it! I also used little snips of the bookmarks that Sonlight sent with our books this year.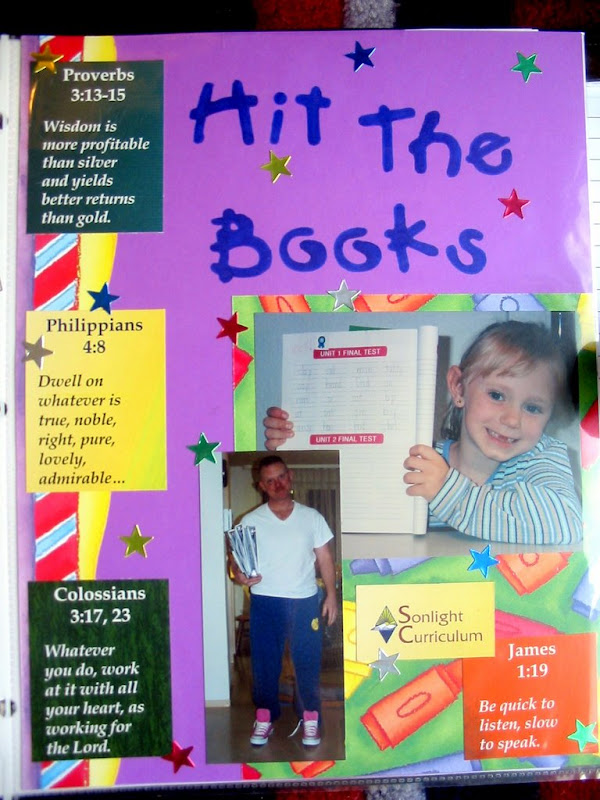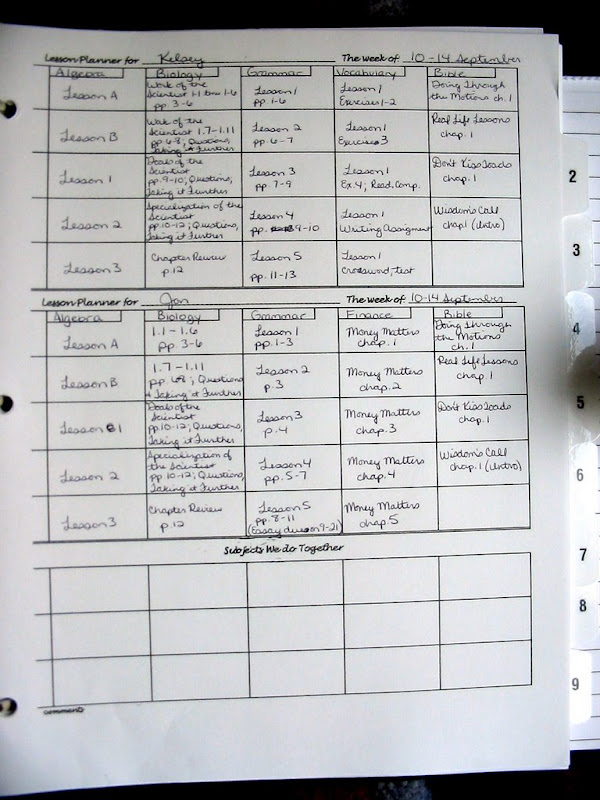 Overall, I'm really satisfied with how things turned out, and I'm excited to keep adding to it...that's a first for me! Surprisingly, the master grocery list worked really well. I thought it would be a hindrance having a big binder along with me instead of a little sheet of paper, but it was just something to get "used to" instead of a true problem. No biggie. I just need to get a wet erase marker that works. Right now I only have blue!
I really benefitted from all the information I found in the Home Management Binder University. It was great, and was excellent in training my thoughts as well as my organizational skills. This was a GREAT Tackle!