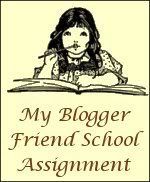 Memory Verse: 1 Corinthians 10:13No temptation has seized you except what is common to man. And God is faithful; he will not let you be tempted beyond what you can bear. But when you are tempted, he will also provide a way out so that you can stand up under it.
Introduction: Betcha' Can't Eat Just One (Lays Potato Chips)
This weeks topic deals with eating potato chips and how good they are. I love salty foods so I have a terrible time eating just one. Along with these chips that I can't eat just one of, I cannot get enough of studying my Bible. I think it's ironic that chips (salty foods) are such a temptation. In the Bible (Leviticus) it tells us that salt is regarded as a disinfectant and when babies were born the midwife covered the baby with salt to clean its body and also to ward away any evil spirits or demons.
Assignment: Tell us about something that you can't get enough of and what scripture(s) in the Bible you cannot tear yourself away from.
I have serious issues with salty foods....I LOVE them, but usually not by themselves. I also have a weakness for cream cheese. Bad, bad, bad. My worst (and weirdest yet) weakness has to be dipping Spicy Guacamole Doritos in whipped cream cheese. I can eat a whole bag. It's awful. I end up with green fingers and funny looking cream cheese on my bagel the next morning! But OH, it's yummy. Yes, I actually did start that while I was pregnant (Dani's fault!), but it's a craving I kept after the preggo hormones died off! Funny thing is, I really don't like plain nacho Doritos, I only like the spicy ones like the Guacamole and (my most recent favorite find) Spicy Sweet Chili. OH my....did I just drool on the keyboard??
As far as Scriptures I can't tear myself away from, I tend to gravitate toward passages that instruct regarding daily living--the matters of the heart and the responsibility Christians have to live out our faith. Probably my favorite is:
And let the peace of Christ rule in your hearts, to which indeed you were called in one body. And be thankful. Let the word of Christ dwell in you richly, teaching and admonishing one another in all wisdom, singing psalms and hymns and spiritual songs, with thankfulness in your hearts to God. And whatever you do, in word or deed, do everything in th name of the Lord Jesus, giving thanks to God the Father through him.
That passage has such strong wording! Phrases like "rule in your hearts", "dwell in you richly", teaching and admonishing in all wisdom", and especially "do everything"....that leads us to believe just how EXTREME God expects us to live for Him. There's just no allowance for mediocrity there! I love it!