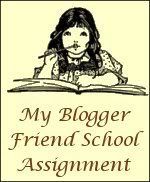 Memory Verse: Matthew 14:19…Taking the five loaves and the two fish and looking up to heaven, he gave thanks and broke the loaves.
Intro: Finger Lickin' Good - You can read about Christ feeding the 5,000 in many places in the Bible (Matthew14:19;15:36; Luke 5:6;9:3-17). I am a fairly new Christian and one of the many things I love about reading the accounts of Jesus' miracles, is that there was not a big drum roll, fireworks, a thousand dollar suit or an agent building up some big preview of what was about to happen. Jesus would calmly say things such as "have faith", "believe", "have them sit and pass out these loaves of bread", and then the miracles began.
Assignment: Although I am not able to produce miracles, it sometimes feels like I need to when it comes to meal time. There are times when money is tight, groceries are few and I have to feed my family. During the holiday season, you might have so much going on that you need to make a meal quickly with as few ingredients as possible. This week post your favorite recipes that require six (6) ingredients or less. Can't wait to see what you come up with!
How about a 4-ingredient dish? I'll admit, this is not my favorite thing to eat, and I'm not even sure why. My family loves it, though, and we usually have enough left over for Pete and one of the teens to fight over for lunch the next day! This is one of those dishes that I can always manage to have ingredients in the kitchen on reserve to fix, and it's easy enough that it was one of the first dishes my teens learned to make.
Easy Shepherd's Pie

2 lbs. ground beef or turkey (I do one of each because we like the flavor of beef)
1 box instant mashed potatoes
2 cans whole kernel corn
8 oz. shredded cheddar cheese
Prepare mashed potatoes according to the recipe on the box--you'll need approximately 10 servings for this recipe. Combine the cheese with the hot mashed potatoes and set aside. Brown and drain the ground meat, seasoning with garlic powder, salt, and pepper as you brown it. Place the drained meat in the bottom of a 9x13 baking dish, then sprinkle the [drained] corn on top of that. Top with some pepper, then spread the potatoes evenly over the meat and corn. Bake at 350 for about 25 minutes, till the top is just slightly golden. Simple!
Taste and see that the LORD is good; blessed is the man who takes refuge in him. Psalm 34:8