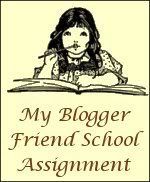 Memory Verse: Ephesians 4:29
Do not let any unwholesome talk come out of your mouths, but only what is helpful for building others up according to their needs, that it may benefit those who listen.
Please try to learn our memory verse this week. We will be sharing a new verse every week and hope that you will store them in your hearts and find a special joy in His words.
Intro: Computers Help People Help People(Marketing credit: IBM)
There are many ways computers help us. It is a wonderful way to stay in touch with family far away, "meet" other christian women around the globe, and it can be such a blessing with homeschooling.
Assignment: Share some of your favorite homeschooling sites. The only "rule" for this assignment is that you have to list at least one "free" site. Many homeschooling families have made the choice to live on very little income to do what they believe is best for their children and I want everyone to be able to benefit from this assignment. If you have other sites that are "paid" sites, feel free to include these also as it might be something someone would really appreciate. If you feel led, share your curriculum choices with us. I always love to learn what is out there that I don't already know about. Please make sure to include links to the sites you share.
If it weren't for the internet, I'm not so sure we'd have ever begun homeschooling! We were stationed in Germany (first time) and knew of NO one in real life who homeschooled, much less anyone over there. I had no access to curriculum fairs, homeschool support groups, bookstores, or even a really good library. Everything I learned was on the internet--even my first contact with another homeschooler through Christian Woman Magazine's editor, who so graciously passed on a letter from me to a dear friend of hers...and with whom I still correspond, even now that her children have long moved on to adult life and mine have begun to!

Over the years, I must have accumulated thousands of web addresses in my list of favorites. I have been part of online support groups like Project Titus 2 on MSN Groups (which is shutting down in February), I've done tons of research using the experiences of others on Home School Reviews, checked out the laws and regulations of different states we've lived in at HSLDA's site, and found TONS of wonderful links on Furious Shepherd's Homeschool Page. In those early days, and even as we have re-started with our first-ever homeschooled kindergartener(s) this year, the internet was my life-line to information and encouragement.
Most recently, as Jon graduated, we utilized
Homeschool Diploma.com
to order the most beautiful printed diploma for our homeschool graduate, plus graduation announcements (that he never wanted to take pictures to send out with, I might add) and that totally necessary graduation tassle to hang from his rearview mirror! Jon didn't need the graudation ceremony, that was just too much 'fluff' for him...but that tassle--now THAT is important!
We've used a wide range of curriculum over our ten years of schooling our children at home, never really finding a good 'fit' till a few years ago. I've long been enamored with both the
Charlotte Mason
and
Classical
methods of education (go see
Classical Christian Homeschooling
and
Trivium Pursuit
, they're wonderful!)--but I could only admire at a distance, because I am the type of person who can't seem to put something together myself without including EVERYTHING...and thereby burning out both myself and my kids. I absolutely adore
Tapestry Of Grace
, but I know myself well enough to know that I'd try to implement every little suggestion, and TOG is just too meaty to do that! Maybe when the little girls are older. For now, though, now that I've finally bitten the rather pricey bullet and invested in
Sonlight
's curriculum, I'm more than happy. I've got my days planned for me, I don't have to try to fit everything in, and I feel like I'm giving my kids a great literature-based education that is leading them to love books as much as I do! Pete is pretty happy that we are able to re-use the books we're using this year for Morgan and Jamie when Danica and Shelby are old enough for it! Me too...
All that said, though, my all-time favorite internet resource has GOT to be
DonnaYoung.org
, because she has put all of the forms I could ever want all in one place--and they're FREE!!! She does have a site CD available for sale with even MORE resources, but I've not gotten around to ordering it yet--probably next school year, considering it's got a bunch of really nifty elementary-and-middle-school-age resources on it. I've copied and recopied her forms hundreds of times over the course of our home education journey, and I'm sure I'll be using them for years to come. We even printed out a bunch of planner forms last night for Kelsey to use, because she now wants to write out her own schedule for finishing her schoolwork this year (yay!!!) and she found exactly what she was looking for on Donna's site! If you are a list and organization junkie like I am (even if, like me, you're not the best at your follow-through!), you just absolutely must check out this amazing site! She even has several really nifty buttons to advertise with--I've got one on my sidebar, but here's another:
It may be silly, but when I look at my bookshelf, I smile. I just LOVE our curriculum choices for this year! Kelsey's got all of her books on the desk in her room, where she prefers to do her schoolwork now that she actually has a desk! However, the little girls' books sit right here next to me where I can access them easily. I just love all the titles, all the wonderful stories (hey, we're only doing Sonlight's pre-K program this year, with some kindergarten resources like
Horizons Math K
and Teach Your Child to Read in 100 Easy Lessons added in for good measure, so don't expect a ton of meatiness in the core stuff this year!) and oddly enough, there's something just all warm and fuzzy about those matching orange stickers that indicate the Core the books belong to! Ahhhhh.....
My people are destroyed for lack of knowledge. Because you have rejected knowledge, I also will reject you from being My priest. Since you have forgotten the law of your God, I also will forget your children. Hosea 4:6