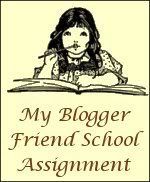 Memory Verse: Isaiah 40: 1- Comfort ye, comfort ye my people, saith your God.

Intro: "Have It Your Way" (Burger King) - As cooler weather approaches and the winter eases into our doors I like to lounge by the fire after a hot shower. I love to make soups that are brimming with a rich and full flavor. In our home there's nothing better than a hot bowl of soup or and a hot cup of coffee or cocoa on a cold winter night.

Assignment: Tell us all about how your have "your" relaxing time, more especially how during the cooler months you take time to curl up with your favorite movie, book, Bible study, and what your favorite warm drink would be.


I'm still getting used to the new house, a new town, and basically a whole new life, so "my" time is being redefined slowly. When we were in Germany, we had a HUGE bathtub, so it was a nightly ritual almost the entire three years for me to spend a good half hour soaking in bubbles after the girls were in bed. It was wonderful to just lay there and let all of the day's stress ooze into the water....but alas, the tub in this place is barely big enough for leg-shaving, much less relaxing, so I'm on a mission to find a new relaxation spot!
One thing that hasn't changed since we moved is that this time of year, in the little free mental time I have during the day, my mind wanders to those people I miss spending time with. Jill, you and I just haven't had "us" time in so long that it's pathetic! But you know what, best friends are best friends no matter how much distance is between them, and I'll just hold out for New Year's Eve! As the air cools, I'm reminded that the year is quickly drawing to a close, and there are still lots of things on my yearly to-do list that are screaming at me to be done...Christmas presents to make, closets to de-junk, homeschool items I've been meaning to sell for YEARS....and pretty soon we'll begin a new year with another list of things to do! I'd much rather just sit and focus on what "is" in the here and now and let God worry about the rest. That's what I'm reminded of when I see the leaves changing--there are blessings right there every day just like all of those green leaves, but I don't even notice them until it's obvious that they're not going to be around much longer. That fact really came crashing down on us this year as our oldest left home to begin his Army career. Life disappears right under your nose!
It's still not cold enough here for hot cocoa, but I think I could really use a Sonic mocha Java Chiller! YUMMY!!!!