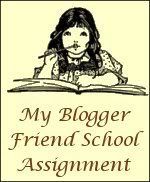 Intro: M'm M'm Good (Campbell's Soup)The fall is such a wonderful time of year. The beautiful foliage and cool, crisp morning air is such a wonderful change from the hot summer. I also love the M'm M'm good smell of fall cooking and baking. The wonderful fall veggies, fruits and Thanksgiving foods.


Assignment: Post your favorite fall recipe/recipes to share. I love trying new recipes, do you? It can be baking, main dishes, veggies, dessert or anything else you can think of. There are no limits. Mmmmmm..I can't wait to take a look at some of those recipes.

Picture ideas: Post a picture of your finished product, or you could just post a picture of the recipe. How about a picture of you cooking? The sky is the limit.

Now this is an easy assignment!! I'm a recipe junkie, and I just love making up my own! Oh, wait...there's a problem, WHICH ONE do I post? I actually made a feeble attempt at a recipe blog a few weeks back, but then deleted it when I realized I really didn't want to share a lot of those recipes I'd concocted over the years! We Southern cooks are funny that way. Not all of us are Paula Deen's who would tell the world their famous fried chicken recipe. Nope, sorry, not even my daughter gets that one! Nor will I share the years of hard work I've put into perfecting my clam chowder. You'll simply have to come over to my house and have a bowl here!

Okay, maybe I need to work on sharing. Here's my recipe for one of our family favorites (and a good one when I have to change dinner plans because I've forgotten to take something out of the freezer...kind of like last night!), my take on Green Eggs and Ham.

18 eggs (yes, EIGHTEEN....I have a big family, OK?)
16oz. package sliced deli ham
2 cups shredded cheese (I used a colby/jack blend in the pics below, but sharp cheddar is my fave)
3 medium-sized potatoes
1/2 medium onion
10 oz. 'brick' frozen chopped spinach, thawed
salt, pepper, and garlic powder as desired

Start by shredding the potatoes and onion in a food processor, then place in a colander with thawed spinach and press to remove excess water. Dice the sliced ham, and scramble the eggs. Mix everything together in a huge mixing bowl, then carefully (this stuff sloshes something terrible!) pour into greased extra-large skillet and bake, covered, in a 350-degree oven for 45 minutes or until the eggs are bubbling all the way into the center of the skillet. Remove cover and continue baking until the top is just slightly golden. I usually sprinkle just a wee bit of shredded cheese on the top after I take it out of the oven--it melts but doesn't brown!

Serve in wedges with salsa, ketchup (yuck IMO, but my girls love it), or my personal favorite must-have, chipotle Tabasco!


Taste and see that the Lord is good; blessed is the man who takes refuge in him. Psalm 34:8